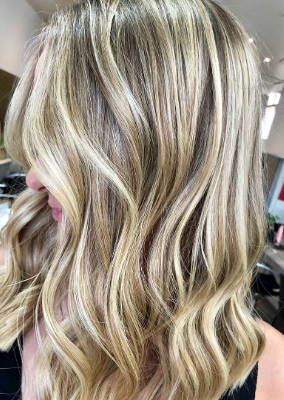 For those who have just floated out of the hairdressers having ponied up their hard earned for the perfect Cut and Colour, shampooing your 'new hair' may very well be the very last thing you want to do. Your hair looks fabulous and you want it to stay that way. The idea of washing your perfect tone away is frightening. But we all have to wash at some point in life - why not do it properly and the way your colourist would wish you would.
Coloured hair fades easily, particularly if you choose a run of the mill consumer level shampoo - they're just not a match. Yes they are cheap but it's like washing your new shoes in laundry powder - who would do that?
When the time inevitably does come for hair cleaning, you will need a colour preserving shampoo to protect the dye from fading so that it lasts as long as possible. You know it cost a bomb and took half a day to create this colour magic after all.
Shampoos specifically designed for colour-treated hair use ingredients that keep the colour molecule intact & in the hair shaft, moisturise your scalp and mane, add shine to hair and restore the delicate pH balance of both the hair & scalp.
Read on for an in-depth look at how and why colour-treated hair fades so easily.
But first, here are our top picks for the best shampoos to help you keep your colour longer!
An ultra-gentle cleanser for ultra-beautiful colour, this colour preserving shampoo from Oribe will extend the bright, happy life of your dye with high-tech ingredients that target damaged areas for intense moisture treatment and protect your hue from the elements.
It uses Oribe's Signature Complex (Watermelon, Lychee and Edelweiss Flower Extracts) to defend the hair from oxidative stress, 'photo-ageing' and the deterioration of natural keratin, all while protecting from the drying, damaging and colour-depleting effects of the elements.
You need this if you've totally hammered your hair with lightening products such as  full head Unicorns or colour corrections.
Immediately illuminating blonde and silver hair, Oribe's revitalising violet shampoo corrects brassiness and yellow tones while brightening natural highlights for hair that is healthier, shinier, and lit from within.
Its Brightening Complex (Lemon, Ginger Root and Chamomile Extracts) optimises shade, tonality and luminosity. Multi-UV Protection shields hair from the colour-depleting, fading and drying effects of the sun's rays and UV exposure.
Maintain salon colour and hair condition for longer with this unique formula. Over time natural grey and even the finest of blondes can turn yellow and dull. Specially developed to promote cooler tones, Conquer Blonde keeps salon colour looking fresh.
If you're concerned about harsh chemicals, this shampoo is formulated without parabens or sodium chloride, making it a gentler way of cleaning your coloured hair.
Shu Uemura's brilliant sulphate and paraben-free shampoo for coloured hair transforms into a rich foam that lathers quickly and offers easy rinsing. Preventing colour from fading, protecting the hair fibre, and balancing the scalp's natural oils, this shampoo's refining lipids mimic the hair's natural protective varnish to insulate the cortex from water and other external stress factors.
Active ingredients include Musk Rose Oil, a rich fatty acid known for its inherent healing properties that deeply nourish the hair fibre; and Goji Berry Extract, a highly concentrated natural source of anti-oxidants which helps protect the hair from oxidation and colour fade.
Root lifting and hair cleansing, this 2-in-1 dry shampoo gently cleanses by absorbing oils and impurities at the roots while moisturising dry lengths and ends. Unlike other dry shampoos, the formula is water-free and contains translucent micro-fine powders that absorb oil without leaving any residue or unwanted texture behind.
Great for second-day hairstyles, post-gym touch-ups, and work week refreshes, the result is revitalised colour, weightless bounce, shine and a salon fresh feel.
What causes coloured hair to fade?
When your hair is colour-treated, pigments penetrate the hair and are trapped inside the shaft of each individual hair strand, meaning that colour can escape every time the hair cuticle (outer layer) lifts up.
How does the hair cuticle become compromised?
Heat, water, as well as UV exposure - we do live in Australia the UV capital of the world.
For this reason, special care is needed for maintaining the vibrancy of your colour. Even the simple everyday ritual of a hot shower can be responsible for stripping the colour from your hair.
Exposure to free radicals and UV rays on a daily basis also causes damage to your hair cuticle, which in turn results in the loss of pigmentation.  
This is why using a colour-preserving shampoo to wash your hair with active ingredients designed to protect your hair against these environmental stresses is essential in maintaining your colour for as long as possible.
In addition to choosing the correct shampoo for your hair, there are other steps you can take to prolong the freshness of your coloured hair.
How to keep your hair colour vibrant
Get a professional to colour your hair
Yes we know we're blowing our own trumpet here BUT…
Do-it-yourself hair dyes have their place because they are convenient, but as with many things in life, you get what you pay for.
Most store-bought dyes are semi-permanent, whereas professional salon dyes are permanent. We can't even think about consumer hair bleaches - they are just plain dangerous to use in the hands of the average person. For example check this home lightening adventure out…
So if only for the reason of superior products that we have available, a salon hair colour will always last far longer.
More importantly, a professional colourist is able to achieve to right colour for your skin tone and specific colour goals.
Not to mention it's not their first rodeo - we've coloured literally thousands of heads so we're really unlikely to get this wrong or do damage.
Wash your hair less
Water is a serious offender when it comes to colour fade, and while for the sake of hygiene it's not practical to avoid showering altogether, you can limit how often you wash your hair. Think shower cap people - they're ugly but who's to know.
It comes down to what you're comfortable with, but unless you're sweating it out at the gym every day, shampooing your hair on a daily basis is excessive and potentially damaging to your scalp's natural balance. If you want to see your bright colours last, once or twice a week should suffice.
Protect your locks
Safeguard your hair and scalp by wearing a hat or scarf whenever you venture outside on sunny, windy or rainy days to make sure exposure to pigment-fading elements doesn't strip your hair of its colour.
If the idea of hiding your marvellous mane seems a waste, then opt for using a leave-in product that will shield your hair from the elements with UV-filtering and other protective ingredients.
If you regularly swim in chlorinated water, you especially need to pay extra attention to your colour-treated hair, as nothing will fade your colour faster. Apply a leave-in conditioner to your hair and cover it with a swimming cap for maximum protection.
---
There is no use switching up your colour your hair if you are not going to take care of it. It will lose its shine and shade. Protect your investment by swapping out your regular shampoo for one that's specifically formulated for colour-treated hair. It will nourish your hair and keep those locks healthy and shiny. Get one already there's really no excuse not to!