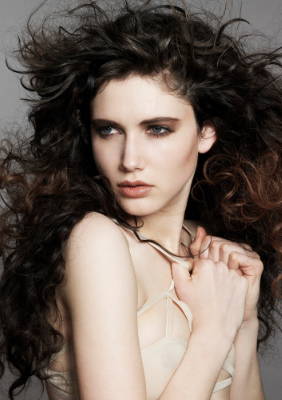 It's always great speaking with clients at Chumba. One of the most asked questions we get is... how to achieve the same hair look at home as we create in the salon?
One look that always endures through Summertime and Autumn in Melbourne is a messy hair wave - with as little work as possible of course. Something that's "done" but not "too done". So does that make it undone?
What product is our favourite for getting that messy hair look? What styling tools do you need? And can I do it well at home?
If you want some next day tousled texture the easy way, read on…
Achieving the Messy Hair Effect at Home.
Squeaky clean hair is so last week people! If you love a very clean, freshly shampooed look, don't take offence, but it's time to express your dirty side once in a while. Just own that vibe and rock it.
The elusive messy-on-purpose hair look is where you want to be now.
Oribe's Swept Up Volume Powder Spray is a favourite in the salon for achieving long-lasting body with minimal styling effort on fine hair or if you really like it BIG try this on thicker hair too.
Day one straight from the blowout get-go, it gives you that instant insouciant (meaning: showing a casual lack of concern) texture you always hoped for from all other products. Swept Up is perfect for giving you the amped-up hair you're after.
Its mess-free non-aerosol applicator sprayer evenly distributes volumising powder exactly where you want it making it very easy to use. It's also great to carry on nights out as a mid-party pep up.
Day two is even better.
A pumped-up lived-in look is a cinch by adding a touch more powder … and hey presto! Just don't add water, the powder needs to build on itself to create hold and texture.
Day three is for those of you who want to get even messier (and dirtier!) By now your hair is reaching full styling anarchy with a pieced out beachy texture. But let's face it - you can't run around smelling of last night's party. SO try this Refresh your 'next day hair' and create even more texture using Oribe's Dry Texturizing Spray. This product is a cult classic - try it and you'll be hooked.
If you're feeling really hair inspired and you'd like to go just one more day to reach new dirty heights... add a little more powder and twist your unwashed mane up into a stylishly relaxed low-maintenance updo.
Like this...
Every day can be a great hair day with a little help from your products.
Hey... you know if you've pushed your hair this far since your last shampoo it's probably about time to actually wash it - then reset and do it all over again.
[About The Author: Carl Keeley has spent his entire life styling hair. Okay, so not his entire life, but you know what I mean. He is creative director at Chumba Salon in Chapel St, Windsor.]