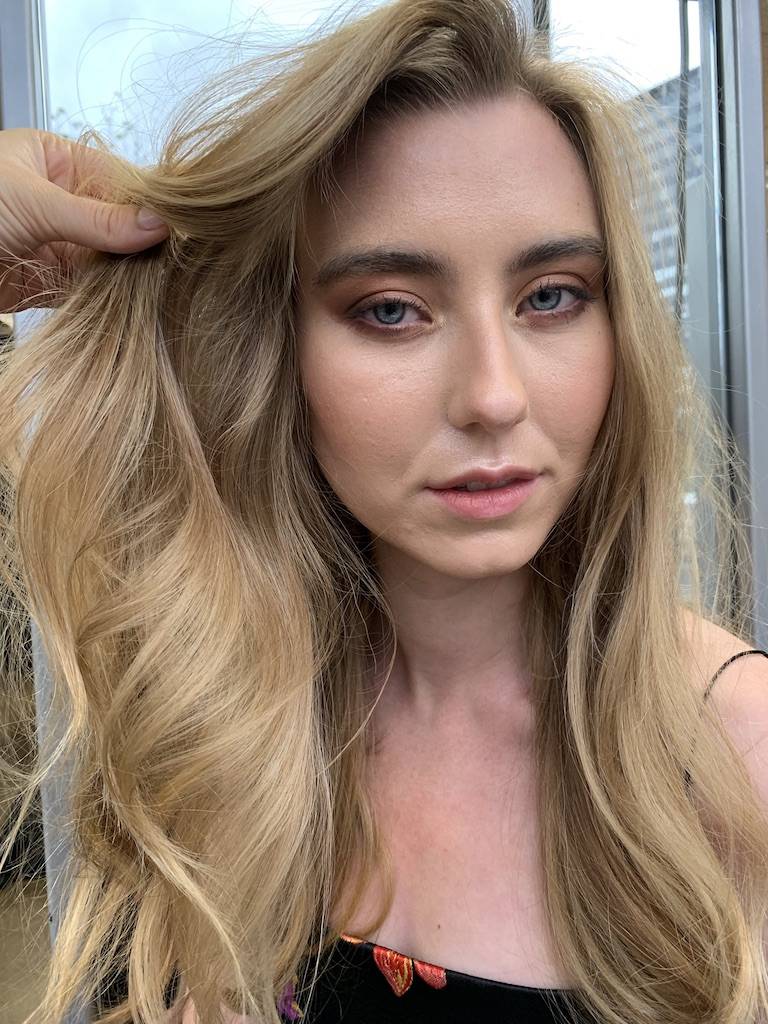 "The hair that you don't colour is what defines the colour that you have placed in the hair."
On Sunday 5th May the Chumba team headed to the newly rebranded Masters Institute on Spring Street Melbourne to attend a workshop from renown Sydney colourist, Monique McMahon of Que Academy and Que Colour who taught her 4 step colour method, accompanied by Que's Creative Director Taylah Jones.
We teach so much ourselves it's fabulous to take the time for ourselves to be inspired, to sharpen our technique portfolio, to be reaffirmed and to enjoy seeing other great hair artists do their thing.
We strapped in for a two hour look and learn followed by a hands on workshop in the afternoon with an intimate Q+A session in between with industry guests.
Monique's signature 4-Step Colour Method is……
Consultation is King.

Foil like a Boss.

Handpainting.

Freestyle Colour.
All techniques interjected with smarts of how to make the colour and client experience to the highest level possible. Efficient, effective and simply beautiful. From redefining how to place the classical foil to expanding our freehand repertoire, seamless and personalised colouration of hairlines, basin balayage, zonal toning through to the new 'Scandi' hairline. Monique created elegant 'now looks' and stunning hair.
A strong emphasis through out the day was towards consultation and how crucial this component is, allowing for a fool proof approach to appointments and clean communication for stylists and clients, something that aligns strongly with Chumba. The live demonstrations from Monique and Taylah gave a detailed insight into their colour processes, break downs of formulations, sectioning and technique.
We were also blessed with an on the couch style discussion with two guest artists invited by Monique, Frank Apostopolous, a multi award winning hairstylist and our very own Carl Keeley. Business and branding were the key discussions among other general topics. Open floor questioning of these two amazing guest speakers giving us inspired insight on how to be more successful on many levels.
Concluding the session with a hands on component, attendees were able to put to practise their learnings and explore Monique's 4 step colour method. An expansive day of education for all involved, always evolving our craft and love of hair.
We loved Monique's approach to hairlines (yes we are hair geeks lol)...
Personalisation of the Hairline Philosophy
"The working with each individual hairline to achieve a blended seamless design of foil work especially seen when hair is swept off and away from the face. Being aware of  the shape of the hairline. Density of the hair in relation to desired colour result not being too light or too heavy in your foil application/ footprint of foils."
We did take a stack of notes and you'll start to hear these terms and see the colour techniques in the salon now;
Stretch Foil
The use of foil to apply colour, where the colour is not taken to the root, but feathered towards the root to create a blend of colour can be used for lightening or deepening.
When used for deepening could also not take the colour to the very ends to allow for more creation of shadow allowing the lights to pop more.
Radial Placement
The use of three foils coming from one point in radial formation, each foil kissing at the focal point to create a definite anchor or a heavier foot print of colour at the focal point but then creating a delusion of colour as the foils exit. Can create a 'ribbon' like placement of colour with out looking too dense.
'eraser' colour
Colour used to erase any unwanted tones  to create shadow and depth where required. When free handing in the V paint style the eraser colour could be applied in the centre of the V to remove unwanted lightness to create shadow with the lightener freehand touch the eraser colour creating a blend then the lightener creating a blended lightening into the V formation.
'Scandi' Hairlines
The lightening of the fine hairs at the hairline to create more brightness and lightness on the hairline especially when the client ties the hair back off the face. Lightening should only be to soften the base colour max two shades lift. Usually only done when there is dense foil work at hairline.